Website Promotion - Advertising
Free Ads - Ezines - Classified Ads - Marketing
Web promotion is challenging and potentially costly, unless you carefully plan a program that fits your income potential. You've built your website. Your merchant account is active and costing you $15-$50 per month, or more, depending on the services included. You're also probably paying $8-$50 a month for hosting and website maintenance services. However, you soon discover that you're not the only storefront on the cyber-boulevard.
There are three principal factors that drive the traffic to your business: 1) product appeal, 2) website design and 3) promotional effort. If you're selling products that only appeal to a group of people that seldom access the internet, you cannot expect much success with this medium. If you only sell a narrow line of popular products, your competition may be drawn towards web stores with a greater variety and diversity. For example, a site with thousands of CD titles will attract more consumers than a site with only hundreds of titles. The drop-ship wholesalers listing may help you increase your product diversity with a minimum of cost.
Many additional resources, promotional services and products including email marketing, marketing planning software, business cards, signs, etc., can be viewed at the Advertising-Marketing website.
ECommerce entrepreneurs can gain a wealth of useful information from a number of ezines devoted to website promotion. For example, the articles to the left were recently published in the AddMe! ezine. Advertising through ezines is also one of the most effective avenues for good responses. These are opt-in publications distributed to individuals who request the subscription. Several lists of ezines by category are available including the following e-zine-list and List-Universe.
Most successful web stores are designed nicely with quality graphics to display each item offered. Detail descriptions and specifications are important especially with regard to electrical, mechanical and health related products. Most shopping carts provide adequate support for graphic files and descriptive text, as well as tax and shipping costs. If you need to display products that you manufacture yourself, you will need to have quality photos made and scanned into acceptable image files for each of your products.
There are about a dozen search engines that move the majority of web surfers looking for a new site. These are the same search engines that you use when you press the search button on your browser. Each of these search engines has it's own web site with a menu option that says "Add URL" or "Add Your Site". There's no cost normally associated with this service. You simply fill in the form with the basic information such as your URL and your e-mail address. A number of these search engines are listed on the Search Engines page with links directly to the forms to add your URL.
Depending on the search engine, it may take one week to two months before your site is actually listed. Once it is listed, it may not have a very good position in the search lists if the title, key words, description and text do not reflect the search words used by your intended market.
The resources listed below provide a number of services and advice on the best way to list your site on the main search engines as well as thousands of other search engines and directory listings. There are also many banner ad exchanges and other free or cheap advertising services, including ezine publications, that are available. Keep in mind that banner ads may affect the design of your web store and your customers may be distracted by a lot of banner ads. Many online classified ads services are available for free.
The Internet Marketing Center® provides a wealth of information and tools that have been effective in increasing sales dramatically for many e-commerce startups. The #1 best-selling Internet Marketing course online for more than 3 years running, the "Insider Secrets to Marketing Your Business on the Internet" course is the product most in demand by internet newbies.
If you prefer a high quality video program to help you grasp the concepts of online marketing, the London Video program by Internet Marketing Center® may be your ticket.
Another valuable resource, AssocTRAC Software, to help you with affiliate marketing is offered by the Internet Marketing Center®.
The
Search Engine Cloaker
is a software system that outwits the search engines. As you probably know, search engines get their listings by sending out automated "spiders". These spiders go to each site, follow every link, and index what they find. This is where cloaking comes in!
Search Engine Cloaker automatically generates thousands and thousands of pages JUST for the spiders. These pages are dynamically built from your keyword lists managed via an easy-to-use management console. The result? Hopefully, more listings in the search engines! Which means more traffic (don't forget that search engine traffic is very high quality).

Note that the big dot com companies spend more than a few precious nuggets on paid online and offline advertising. Your advertising strategy should be thought out as early as possible, preferably before you decide what types of products you intend to sell.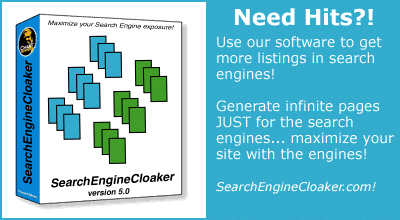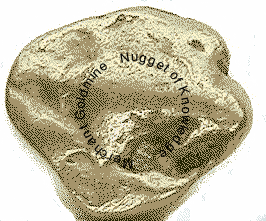 Quickly compare rates and monthly costs between PayPal, Yahoo! PayDirect, 2Checkout, ClickBank, DigiBuy, FastPay, iBill, Jettis, iKobo, Kagi, MultiCards, MyPaySystems, Process54, ProPay, StormPay, Verotel and other alternatives, including Merchant Accounts with the Maculator™
Internet Advertising to Increase Traffic to Your Website Gems...

Learn how to quickly expand your piece of the e-commerce pie